Independence Selfie Competition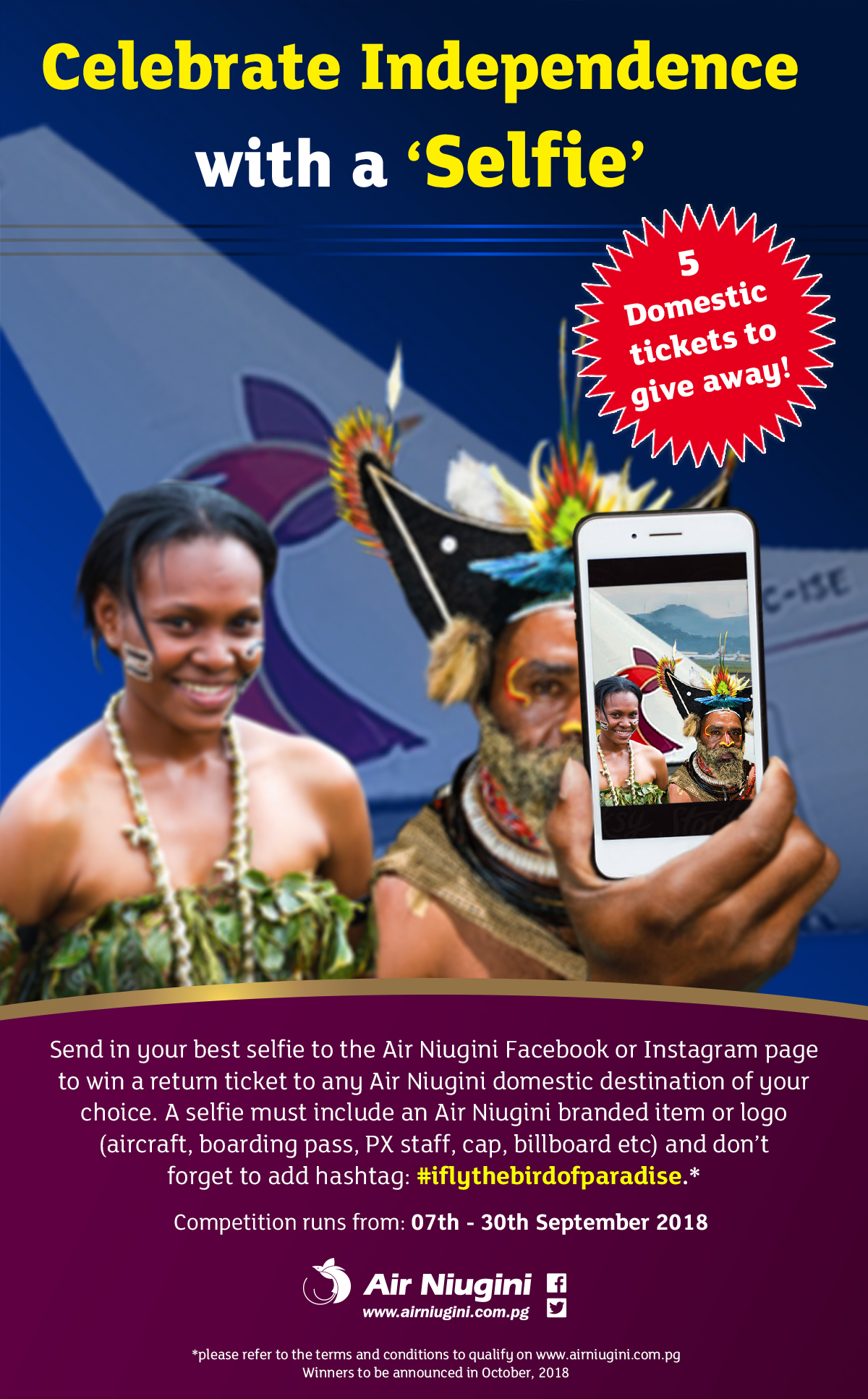 Terms & Conditions
---
ELIGIBILITY
To be eligible an entrant must be: 16 years or older. Employees of Air Niugini Ltd and its subsidiaries are ineligible to participate in this Competition. Air Niugini Ltd reserves the right to verify eligibility.
COMPETITION PERIOD
The Competition begins at 12:00 A.M. PNG Time on 07 September 2018 and ends at 11:59 P.M. on 30 September 2018.
HOW TO ENTER
To enter the Competition, simply post your most creative selfie image with any form of Air Niugini branding.
Branding could be in the following forms: Aircraft's, signage, staff in uniform, boarding pass, ticket holders, or the use of merchandise i.e. caps, pens, bags, umbrellas, shirt etc. Your entry must include: #iflythebirdofparadise. Only entries submitted via the Air Niugini Facebook and Instagram pages will be accepted. No entries will be accepted if they are submitted via any other means. The Photographs must meet the "Selfie Requirements," described below. Entries are void if they are animated images or videos, illegible,incomplete, damaged, counterfeit, obtained through fraud, or late.
SELFIE REQUIREMENTS
Entrants may submit unlimited Selfies in the Competition. By submitting an entry each entrants must meet the following criteria:
It must not be or include content which is offensive, threatening, defamatory, or contain any content that is inappropriate, indecent, and discriminatory in any way.
Air Niugini is indemnified from any claims for publishing non-authorised photos of people, places, signage,therein the entries.
JUDGING
There will be a panel from Air Niugini Ltd who will evaluate each entrant's Selfies based on these criteria's:
How original are the Selfies?
How creative are the Selfies?
How well do the Selfies fit the aims of the competition?
Five (5) winners will be selected at the discretion of the judging panel and must meet the above criteria.
Air Niugini's decision on winners is final and therefore not negotiable. In the event a prize winner is disqualified for any reason, another Selfie will be selected in its place.
PRIZES
The five (5) individuals selected as Winners will receive a Free Return Airline Ticket (taxes included) to any PNG Domestic destination serviced by Air Niugini Ltd only. The prize does not include accommodation, is nontransferable and is not redeemable for cash. The prize ticket is valid for 6 months from the time the prize is awarded.
PUBLICITY
Participants of the competition agree that personal data entered during the registration, including name and selfie photo may be shared and otherwise used for the purposes of the competition. By accepting a prize, the entrant agrees that Air Niugini Ltd freely can use their Selfies for advertising and promotional purposes. Air Niugini reserves the right to publish or not any entries that are submitted. All entries become the property of Air Niugini.
---
Enquire about this offer
Complete your details below to enquire about this offer. A representative of Air Niugini will respond to your enquiry as soon as possible.